ORE
A luxurious, crisp, textured plain with a   sculptural handle based on natural themes and mineral tones, designed to blend complementing shades and yarn luster. Available in seven colorways, Ore will give a seductive lavish touch to any drapes or upholstery.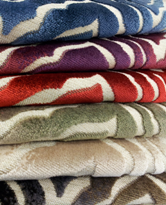 SERENGETI COLLECTION
This collection is comprised of two velvet designs Serengeti and Zambezi, woven with an ombre effect on a textured neutral ground. The luxurious sheen of the viscose pile combined with the soft ombre shading creates depth and lustre offering a sophisticated and up-dated alternative to chenille or a flat woven. With a colorway ranging from spicy orange and deep blues to the soft neutrals these fabrics and the subtle interpretation of the great Zambezi river gorge and the mottled patterns of the majestic animals that roam the vast plains.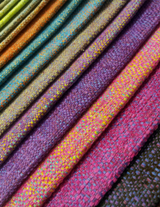 PAPARAZZO
Paparazzo is a very adaptable and functional textured plain with a color palette inspired from the diverse and vivid colors of nature seen in tropical fish. Although more contemporary in style, Paparazzo will be stunning in any room.